Recordings
Music by Clif Hardin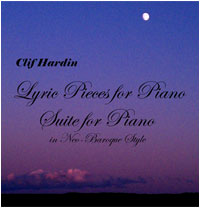 Lyric Pieces for Piano
Suite for Piano in Neo-Baroque Style
This is a wonderful collection of shorter piano pieces, each with their own distinct character and mood, written and performed by Clif. Some reference baroque, romantic, impressionist, or folk styles, and others would simply be put in the "contemporary" category. The Suite for Piano pays special homage to the Baroque suite, with modern versions of a Prelude, Minuetto, Gavotte, Chaconne and Gigue.
Besides the Suite for Piano, included in this collection are Prelude in D minor, Upon the Water, Nach Bach, Sarabande, Journey On, Once in Country Fields, Flower to the Sun, Anniverary, Child's Play and Main Street.
Price: $15.00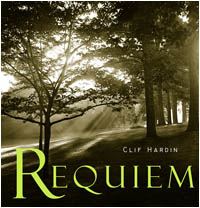 First commissioned and performed in 1993 at River Road Unitarian Universalist Congregation, Clif Hardin's Requiem is a profoundly moving musical portrayal of the experiences surrounding death and dying. With settings of extraordinary texts ranging from the timeless words of Ecclesiastes to 20th century poets, Requiem powerfully evokes the complex themes of anger, grief, remembrance, and gratitude that are common to our experience of losing a loved one.
Price: $15.00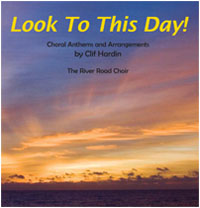 This is an inspiring collection of 18 choral anthems and arrangements by Clif Hardin performed by the choir at River Road Unitarian Universalist Congregation. These beautiful works draw on a wide variety of texts, both old and new. Some of the texts are ancient: the Beatitudes, the Sanskrit poet Kalidasa, a Celtic rune. Some come from the literary giants of the 19th and 20th centuries: Thoreau, Whitman, Teasdale, Sandburg, and Housman. Some come from folk sources: African-American spirituals an Appalachian folk hymn. These choral works bring a message of hope, love of natural beauty, peace, and our connections to one another as one human family.
Included in this collection: Welcome, Welcome; Come Into This Place; Look to This Day; Life Has Loveliness to Sell; Song of the Open Road; Go to the Shine; Yonder Come Day; Deep Peace; Seize on Today; Loveliest of Trees; There is More Love Somewhere; The Beatitudes; Allelu, Allelu, Allelu; Do You Hear?; Healing Waters; Bright Morning Stars; All God's Children; and May Love Be Your Guide.
Price: $15.00